The art of typesetting has existed for many years. It entails positioning text and graphics on a page so that they are both aesthetically beautiful and simple to read. The development of digital technology has increased the complexity of typesetting by making a variety of typefaces, spacing options, and other design aspects available.
Font selection is one of the most crucial elements of typesetting. There are countless fonts available, each with a distinct personality and style. A proficient typesetter will make a great effort to choose an appropriate typeface for the text that complements the piece's overall appearance.
To make the text easy to read, a typesetter will also change the margins, line spacing, and other aspects in addition to the font. This can be a tricky balancing effort because too much or too little space can make the text appear cluttered or hard to read.
The usage of white space is a key aspect of typesetting. The white space around text and graphics on a page is called white space. When used wisely, white space may give a printed work a polished, expert appearance. Additionally, it can direct the reader's attention to the text's most crucial passages.
Prepress: The Crucial Final Step Before Printing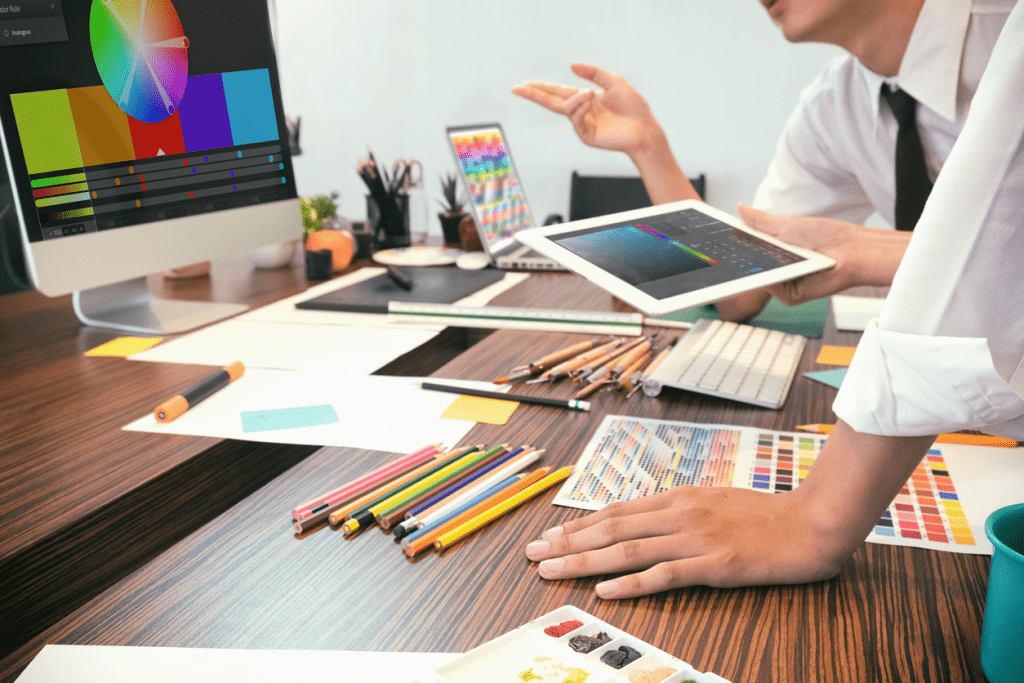 The file is given to the prepress department for final editing before printing after typesetting is finished. A variety of technical procedures are involved in this, such as:
Checking for mistakes: Prepress professionals will thoroughly go over the file to make sure there are no mistakes, missing photos, or other mistakes.
Color management: To guarantee that the finished printed work closely resembles the original digital file, prepress professionals will modify the color settings.
Imposition: For printing, prepress professionals will arrange the pages in the proper sequence. To do this, a digital mock-up of the finished item must be made, complete with the cover and any inserts.
Creating a proof: Finally, a proof is created, a physical copy of the printed piece that is reviewed for accuracy before printing.
Why Professional Prepress and Typesetting Services are Important?
There are several advantages to hiring expert prepress and typesetting services. The fact that these services provide high-quality printing is one of the most significant advantages. Companies that specialize in prepress and typesetting have the knowledge and tools necessary to produce prints that are up to industry standards. Additionally, they can aid in spotting prospective printing faults like resolution or color inconsistencies before they worsen.
Utilising expert prepress and typesetting services has the added advantage of streamlining the production process. Businesses may guarantee that their printed documents are created effectively and on time by dealing with a reputable firm. In the case of extensive projects or short deadlines, this can be particularly crucial. Professional prepress and typesetting services can provide design counsel and creative input in addition to these advantages.
They can help businesses to create visually appealing printed materials that effectively communicate their message to their target audience. Overall, the use of professional prepress and typesetting services is essential for businesses looking to produce high-quality printed materials efficiently and effectively. Not using professional prepress and typesetting services can lead to several potential risks and drawbacks. One of the most significant risks is errors in design or layout that can result in costly reprints or delays in production.
Professional prepress and typesetting services are necessary for producing printed products of the highest caliber. Additional justifications are as follows:
Prepress and typesetting experts who work professionally are taught to see even the smallest mistakes or discrepancies. This makes sure the printed article looks polished and expert.
Efficiency: By saving publishers and printing companies time and allowing them to concentrate on other areas of the publishing process, professional prepress and typesetting services are efficient.
Cost-Effective: Small publishers and writers who self-publish may find it more affordable to outsource prepress and typesetting services than to buy pricey printing equipment.
access to cutting-edge technology The highest print quality is achieved by using the most recent hardware and software in professional prepress and typesetting services.
Super DTP Ltd is a specialized desktop publishing agency located in Gabrovo Bulgaria, offering multilingual DTP and E-learning localization services to translation agencies and localization companies worldwide! Check our services at www.superdtp.com or contact us at dtp.bulgaria@gmail.com for further details.
Conclusion
In conclusion, prepress and typesetting services are necessary for producing printed products of the highest caliber. Professionals in prepress and typesetting have the knowledge and experience necessary to produce a finished product that is polished and polished-looking. Publishers and printing businesses can save time and resources while still creating a high-quality printed item by outsourcing these services. Prepress and typesetting services are essential for realizing your vision, whether you're publishing a book, magazine, or brochure.